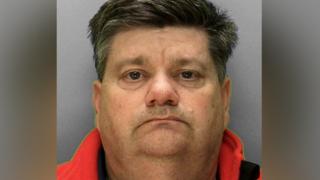 A review of Scotland's Yard disastrous inquiry into false allegations of a VIP paedophile ring found warrants to search the homes of the wrongly accused suspects were obtained "unlawfully".
Retired High Court judge Sir Richard Henriques said searches of the homes of three prominent people "should not have taken place".
He has reviewed the Met's investigation into allegations made by Carl Beech.
Beech, 51, from Gloucester, was jailed for 18 years for his false accusations.
Beech, previously known as "Nick" in the media, made false allegations of murder and child sexual abuse against prominent public figures.
The Metropolitan Police spent more than £2m investigating his claims after publically saying they were "credible".
The Met have re-released the first three chapters of the 2016 Henriques report after being criticised for previously publishing a heavily redacted version.
The report also said "there can be no doubt" Labour MP Tom Watson "believed Nick" and "created further pressure upon officers".
Mr Watson, now the Labou said the review "contains multiple inaccuracies" about him and police asked him to "encourage the hundreds of people that came to me with stories of child abuse to report their stories to the police".
Sir Richard is also highly critical of the Met's decision to hold a press briefing on 18 December 2014 – soon after the investigation began – in which detectives said they believed "Nick" and considered his claims to be "credible and true" – a phrase that was repeated several times that day by Det Supt Kenny McDonald.
In a finding, the retired judge wrote: "Since the credibility of 'Nick' was not established, a decision to inform the public via the media that 'we believe 'Nick" was a serious mistake."
Sir Richard's report makes clear that Det Supt McDonald's line manager – Deputy Assistant Commissioner Steve Rodhouse – knew he would use such language.
The judge wrote that if Mr Rodhouse "did believe 'Nick' his judgement was at fault. If he did not believe 'Nick', he had decided to mislead the public."
Mr Rodhouse said he was "sincerely sorry for the distress caused".
The Met said mistakes had been made but it did not agree with everything in the report.
A spokesman said it had apologised for mistakes before and "we apologise for them again today".